Car Sharing: Car Rental Per Hour
Now in Amsterdam and Maastricht!
Looking for a car, but only for a few hours? With car sharing, available for pickup in Amsterdam and Maastricht, you can rent a car for a short trip. You pay a fixed rate per hour and kilometer, meaning that you'll never have to pay for more than what you actually use. Costs of fuel and insurances are simply included in the price. Car sharing means that you can already hire a car for only €6,- an hour and €0,30 per kilometer.

Car sharing is available at our locations Amsterdam Central, Amsterdam Zuidas and Maastricht. You can book your car down below right away, but if you want to know more – you can find everything you need to know about car sharing on this page.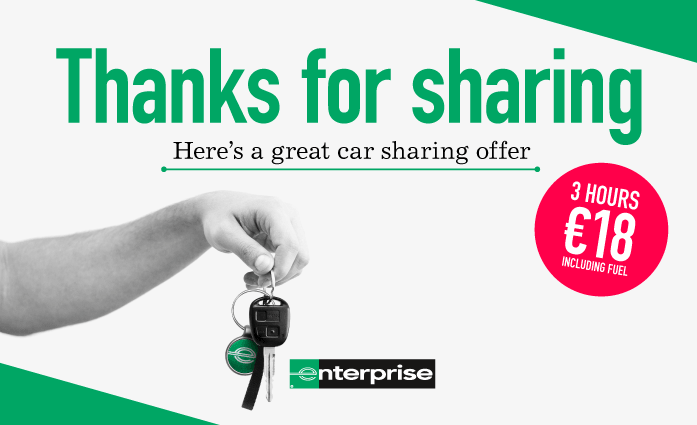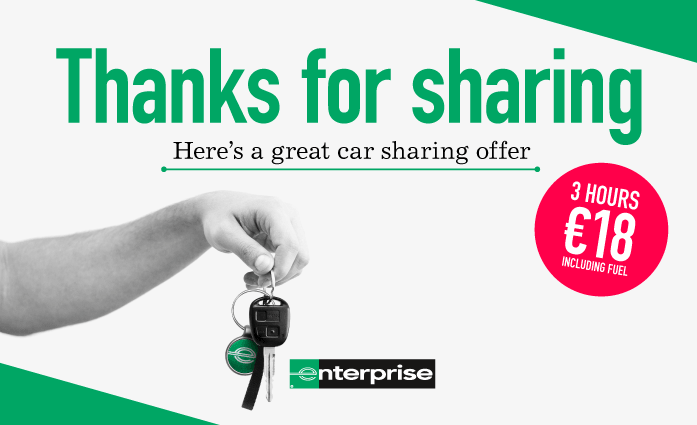 Book Your Rental Car Per Hour Here
What is Car Sharing?
Car sharing is a cheap and easy form of car rental. You only rent the car for the times when you actually need it, with a fixed rate per hour and kilometer, fuel and insurance included. This means that car sharing is ideal for when you're visiting clients, bringing your mom to Schiphol or when you have to visit Ikea.
 
How much does Car Sharing cost?
Car sharing can be paid for per hour and per kilometer. A Mini is €6 per hour; an Economy is €8 per hour; and a Compact is €10 per hour. Additionally, it's only €0,30 cent per kilometer for the Mini and the Economy; fort he Compact it's €0,36 per kilometer.

Also, important to know: car sharing rounds up to the hour. For example, if you're on the road for one hour and 45 minutes with the Mini, the costs come down to €12, plus the number of kilometers you've driven. Please find a few examples below:    
 
| Ride the... | Duration | Number of km | Price |
| --- | --- | --- | --- |
| Mini class | 60 min. (€6,-) | 60 km (€18,-) | €24,- |
| Economy class | 30 min. (€8,-) | 18 km (€5,40) | €9,40 |
| Compact class | 50 min. (€10,-) | 53 km (€19,10) | €29,10 |

The rental price includes:

✔ Cost of fuel
✔ Collision damage waiver with deductible (€450,-)
✔ Third party insurance
✔ Theft protection (TP)
✔ 24/7 roadside assistance    

What cars can I rent with Car Sharing?
You can take cars from the Mini, the Economy and the Compact class out on the road. Below, you can find examples of the cars that belong to these classes, including the price and how many people (and pieces of luggage) you'll be able to take along with you. This way, you can make a solid estimate of what car will fit your personal journey best.

Want to know more about where you can book our car rental the Car Sharing way?
You can find the opening hours, directions to the locations and other additional information on the location pages of Amsterdam Central, Amsterdam Zuidas and Maastricht. These are the places where car sharing is currently available. You can find these locations at:
Amsterdam Central
Harry Banninkstraat 129
1011 DD Amsterdam
Amsterdam Zuidas
Aaron Coplandstraat 6
1082 MG Amsterdam                                                            
Maastricht
Heugemerweg 35
6221 GE Maastricht
Would you like to know more about car sharing?
If you'd like additional information about car sharing itself, please feel free to contact the location from where you'd like to pick up your rental car.